BESPOKE LEATHER
A SYMBOL OF ABSOLUTE PRIVILEGE
BAGS FROM $3,500
BELTS + WALLETS FROM $1,250
Exceptional leathers and workmanship serve at the heart of each CHRISTOPHER HANLON® BESPOKE piece. Your design requirements for your personalised product will be discussed in collaboration with HANLON® ensuring a seamless design and creation process. Christopher prefers to converse in person or via telephone with Bespoke clients ensuring full understanding of requirements. Importantly an all-inclusive capped price (no hidden extras) will be locked in after your initial appointment – secured with official confirmation. STANDARD PRICES: Bags from $3,500. Wallets, Belts, Clutches and Petite Hand-Helds™ from $1,250. REPEAT VIP BESPOKE MEMBER PRICES™: approximately equal to the original price paid for the first Bespoke piece. To authenticate your previous purchase you must have in your possesion: an original store receipt, an online receipt from christopherhanlon.com or the Bespoke bag previously purchased. SUBMIT AN ENQUIRY to discuss price, design details and estimated delivery times.
CRAFTSMANSHIP
LABOUR OF LOVE
WITH ALMOST MACHINE PRECISION EACH PIECE OF THE BAG IS CUT, SCORED, SKIVED + FOLDED EXCLUSIVELY FOR YOU. ABOVE: THE CRAFTSMAN brings his artist's eye to the House's know-how. IN TURN HE passES it onTO THE NEXT GENERATION OF BESPOKE CHRISTOPHER HANLON® PATRONS - UNBEKNOWINGLY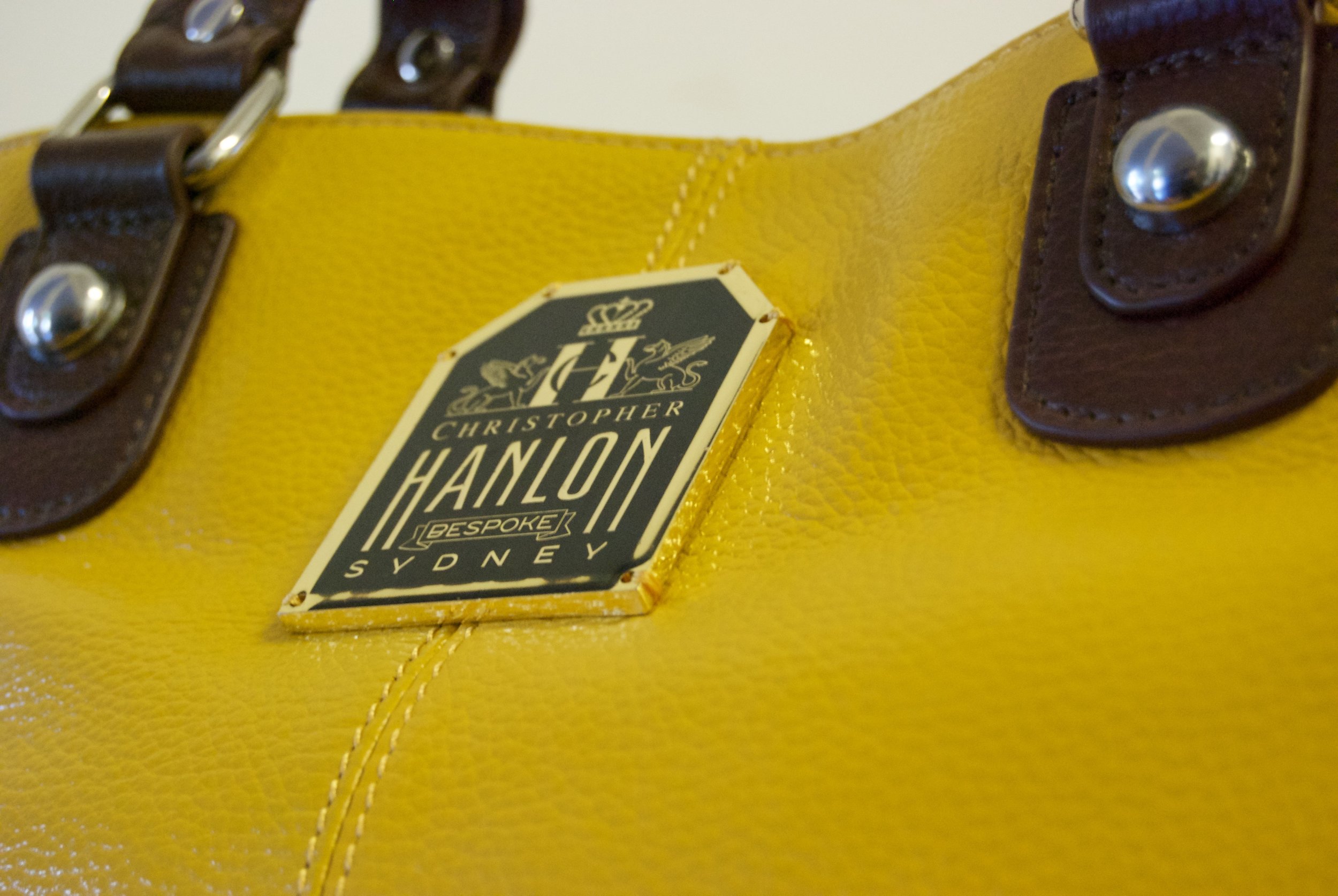 THE FINISHING TOUCH IS THE DISTINCTIVE METAL CH® EMBELLISHMENT THAT IS HAND MOULDED, POLISHED, PAINTED AND CAREFULLY DRILLED. BORED CORNERS ARE FINALLY HAND STICHED INTO THE BAG FROM THE INSIDE OUT.
NEEDLESS TO SAY IT IS A LABOUR INTENSIVE CRAFT. ONE OF OUR MOST POPULAR LEATHERS IS THE 'AUSTRALIAN PEBBLE FINISH' PICTURED ABOVE. THIS LEATHER HAS PROVEN ITSELF AGAIN AND AGAIN TO BE STURDY, FLEXIBLE AND WELL WEARING. AVAILABLE IN 8 STANDARD CHRISTOPHER HANLON® COLOUR WAYS.
A WORK OF ART
ALL BESPOKE LEATHER GOODS ARE CROWNED WITH THE CHRISTOPHER HANLON® JEWEL HARDWARE™ AVAILABLE IN MATTE GILD, SHINY GILD, PAINTED MATTE BLACK OR METALIC CHROME FINISH. INVEST IN AUSTRALIAN HIS-STORY. PICTURED ABOVE: BESPOKE LEATHER BAG IN SUNBURNT YELLOW WITH PEBBLE FINISHED BROWN LEATHER TRIM AND CLASSIC JEWEL HARDWARE™ IN BLACK ENAMEL AND 24 CARAT GILD $4,500.
ADDED EXTRAS FEATURE CUSTOM MADE ZIP PULLS. EACH ZIP PULL IS BLIND EMBOSSED BY HAND THE TRADITIONAL AND TIME CONSUMING WAY. EDGES OF THE ZIP PULL ARE BUFFED BEFORE BEING HAND PAINTED TO MATCH THE FINISH OF THE PEBBLED LEATHER. THE RESULT IS SO SUBTLE IT BARELY CATCHES THE EYE. IT'S UNSPOKEN QUINTESSENTIAL LUXURY.
STAND OUT IN STYLE WITH AN UNDERSTATEMENT
QUALITY AUSTRALIAN COWHIDE HAS BEEN PART OF THE FAMILY SINCE 1875
EVERY ANGLE IS CONSIDERED
PUNCHED, SEWN, STAMPED, CUT, BUFFED, HAND PAINTED + SKIVED EDGES. HALLMARKS OF UNSURPASSED CHRISTOPHER HANLON® LEATHER FINISHES
CHRISTOPHER HANLON® ARTISANS ARE TRAINED EXPERTS PRODUCING SIGNATURE LEATHER GOODS
"MODERN LUXURY IS AN EXPRESSION OF THE ARTIST. A SOUL CREATION. THE PERSONAL STYLE OF A BONA FIDE LIVING ARTIST JUST FOR YOU"
- CHRISTOPHER HANLON