ALOE VERA FACE + BODY UV MOISTURIZER.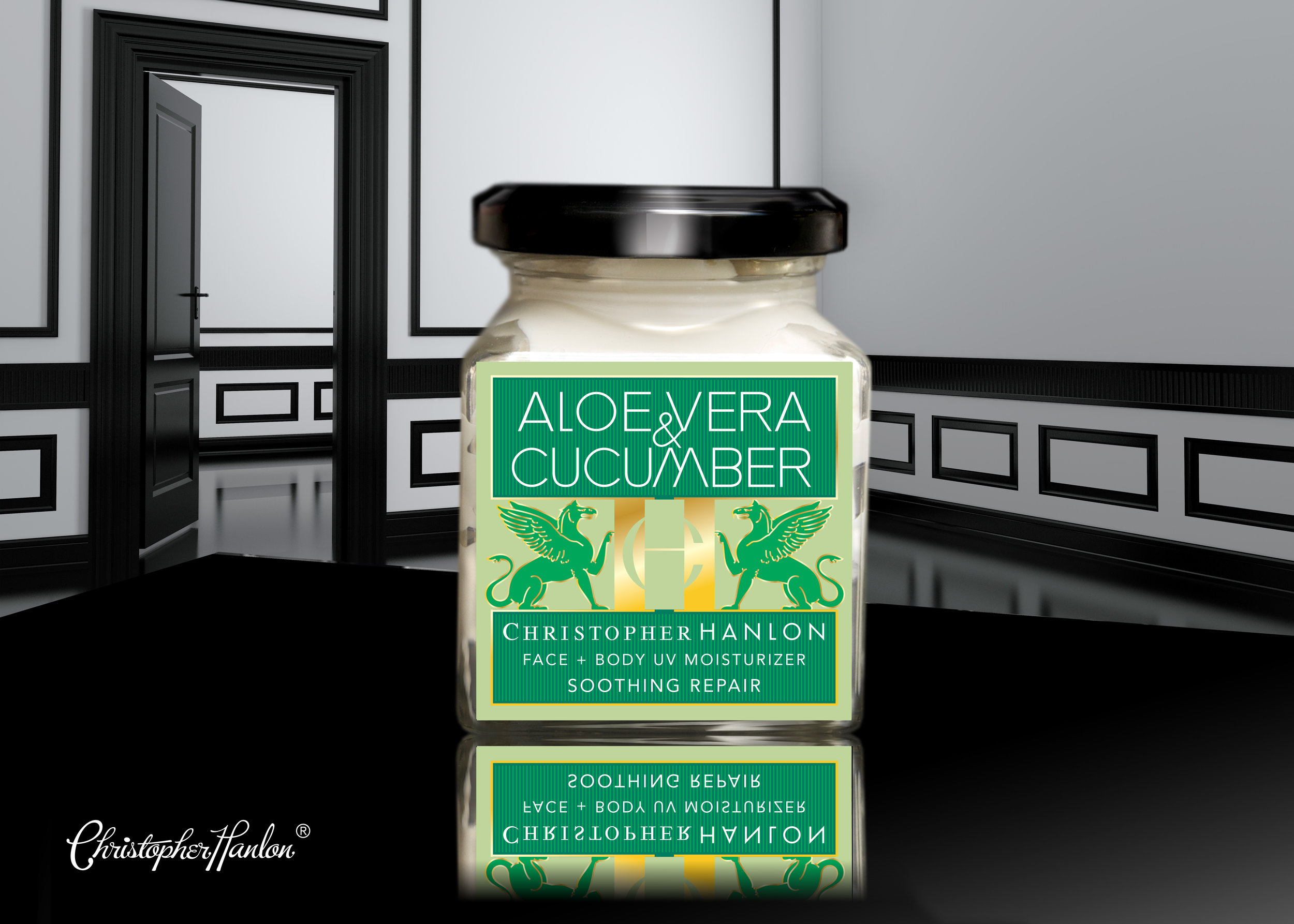 ALOE VERA FACE + BODY UV MOISTURIZER.
WITH UV SUNSCREEN.
SOOTHING REPAIR.
Australian Plant Extracts, Herbs, Aromatherapy + EFS®. Researched + developed by CH Laboratories for face + body. This super-sensitive Macrobiotic concoction will leave your skin refreshed, soothed and green with envy (for more) • Seriously nurturing • Aloe Vera + botanical stress busters Ginseng and Cucumber instantly calm • Smooth on for immediate post shave + after-sun skin repair (with firefighting Allantoin + Vit. E)
190ML/6.4FL.OZ.e NET
sale
THIS EXCLUSIVE FORMULA CONTAINS: INGREDIENTS – EFS®™ (AQUEOUS PLANT AND VITAMIN FILTRATE OF ALOE VERA [ALOE BARBA DENSIS MILLER] (&) ROSE HIP [ROSA RUBIGINOSA] (&) GRAPESEED [VITIS VINIFERA] (&) CALENDULA (CALANDULA OFFICINALIS) (&) KELP EXTRACT (&) CARICA PAPAYA (&) WITCH HAZEL [HAMAMELIS VIRGINIANA] (&) GINGER [ZINGIBER OFFICINALE] (&) MANDARIN [CITRUS MADURENSIS] (&) BLACK CURRANT [RIBES NIGRUN] (&) SIBERIAN GINSENG [ELEUTHER OCOCCUS SENTICOSUS] (&) VITAMIN E [D-ALPHA TOCOPHEROL] (&) PANTHENOL (&) LACTOBACILLUS)•BORAGE (BORAGO OFFICINALIS) (&) JOJOBA (SIMONDSIA CHINENSIS) (&) SESAME (SESAMUM INDICUM) (&) COLD PRESSED SUNFLOWER OIL (HELIANTHUS ANNUUS)•GLYCERIN (*COCONUT) (&) CALENDULA (CALANDULA OFFICINALIS) EXTRACT•OCTYLMETHOXYCINNIMATE (&) TITANIUM DIOXIDE (&) BIXA ORELLANA SEED EXTRACT (SUNSCREEN)•NATURAL CHRISTOPHER HANLON® PLANT FRAGRANCE CONTAINING ESSENTIAL OILS•COCOS NUCIFERA•WILD THYME (&) MELISSA (&) MILFOIL•ALMOND GLYCERIDES•XANTHAN GUM•CUCUMBER (CUCUMIS SATIVUS FRUIT EXTRACT)•ALLANTOIN•STEARIC ACID (*CASCARILLA BARK)•CAPRYLIC/CAPRIC TRIGLYCERIDE (*COCONUT)•VEGETAL PERHYDROSQUALENE•CARBOMER (&) CARRAGEENAN (*SEAWEED)•SODIUM BENZOATE (&) SODIUM HYDROXIDE (*CRANBERRIES)•GLYCERYL LAURATE (&) MAGNOLIA OFFICINALIS BARK (&) THYMUS VULGARIS•CHAMOMILE (MATRICARIA CHAMOMILLA)•HYDROLYZED SOY PROTEIN•LEPTOSPERMUM PETERSONII•CYCLODEXTRINS (*SUGAR)•COLLOIDAL SILVER
*PLANT SOURCE
USAGE DIRECTIONS | ADDITIONAL INFORMATION
USE: AM + PM. SELF ABSORBS.
CAUTION: PATCH TEST FIRST. AVOID CONTACT WITH EYES. DISCONTINUE USE IF IRRITATION DEVELOPS. BEST WHEN FRESH – MAY BE REFRIDGERATED.
ANTI-AGE COMPOUNDS
• ALOE VERA
• SOY PROTEIN
• GINSENG
• CUCUMBER EXTRACT
• COLLOIDAL SILVER
• JOJOBA + BORAGE
• BIXA ORELLANA (UV)
• VITAMINS E + B5
'UV PROTECTION WITH SOOTHING CUCUMBER FRUIT EXTRACT AND COLLOIDAL SILVER TO TARGET GERMS'
- CHRISTOPHER HANLON®, AUSTRALIA'S FIRST PERFUMER®
HAND MADE IN AUSTRALIA NATURALLY
YOU MAY LIKE